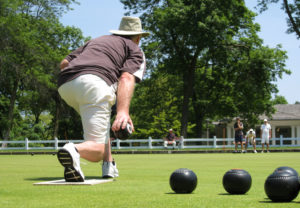 Is this a league where I am committed to scheduled games?
No, it is a play as you book with whomever is listed in the time slot and rink you have selected. There are no leagues and no commitments to specific days or times. You will book your days and times online, on sign up genius. You can play as often as you like.
Is there any equipment needed?
Bowls are provided for free for the first year of membership. Starting in your second year, you will pay a nominal amount to rent bowls for the season.
We recommend you bring a small towel to use for wiping your bowls during the game due to moisture or grass accumulation.
New Member, How do I join?
We will be offering pre-season training sessions during the weeks of May 9th and May16th . Details of the times and dates will be included in your training registration email. These sessions will include both technical instruction on how to play as well as, actual game play. If after your 2 training sessions, and you have joined our club, your final training session will be on the first night of regular season play. If you would like to register for our training sessions please send us an email with your name and phone number to  [email protected] or fill out the contact form below.
Membership is $160.00 and your application can be completed online, mailed or remitted in person at the clubhouse. 
 Our fees are as follows:
Annual 2022 membership – $160 (includes $35 OLBA fee)
New Member – $160 (includes $35 OLBA fee)
Associate/Social Membership – $35
Joint OLBA Membership – $125 (must provide OLBA number)
Bowls rental (first year free for new members) – $20.00 / year
Locker per bowler (first come first served) – $10.00 / year
Do I have to wear white clothing?
Only if you are participating in a tournament (these are optional as well) otherwise on regular playing days  wear casual clothes – the only proviso for playing on our greens is to WEAR SOFT SOLE SHOES.
What are the times and days of play?
We play on Monday, Tuesday, Wednesday and Thursday evenings from 7 p.m. to approximately 9:00 depending on the pace of the game. 
Friday play times vary depending on the months as follows:  afternoons  in May, June, September, and October with a 1:00 p.m. start time and mornings  in July and August with a 10:00 a.m. start time.  This accommodates the nursey school that shares our clubhouse.
We also play on Saturday mornings with a 10:00 a.m. start time.  
Arrive at approximately 15 minutes early prior to play.
Do you offer your facilities for corporate or private events?
Absolutely and, every company that has a team building day playing lawn bowling return as they find the location refreshing, the game more of a challenge than expected and just lots of fun.  Give us a call to get details on pricing and to book a date!  We have limited availability as we get repeat corporate bookings. 
What kind of social activities does the club have available for members?
Members enjoy a variety of activities in addition to bowling.  During July and August there are bi-weekly card nights, we have special event BBQ's and many members participate together in other community events like concerts to enjoy the comradery and benefits of group pricing.
How to contact us.
Phone:  416-259-8776          email: [email protected]
or complete the form below