Announcements:
We are pleased to announce we will be officially opening on May 20 with a return to normal play for the 2023 season ending Oct 1.
All covid-19 restrictions and protocols by the OLBA have been lifted.
Mask use is now discretionary upon your level of personal comfort. 
Golden girls and Sunshine boys inter-division league play is back.
New Bowlers please see our FAQ
Welcome back bowlers for the 2023 season!
––––––––––––––––––––––––––––––––––––––––––––––––––––––––––––––––––––––––––––––––––––––––––––––––––––––––––––––––––––––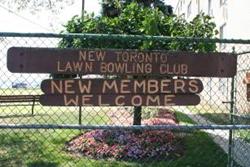 New Toronto Lawn Bowling Club was established June 24, 1902 and is the oldest ongoing lawn bowling club in Toronto. Located in Etobicoke on the shores of Lake Ontario the ambience and beauty of the greens adds to the enjoyment of this mild and challenging sport. NTLBC provides free trial starter lessons to give you the opportunity to test your skills and interest. All equipment is provided and you only need soft sole shoes as we do not require dress whites unless you are participating in a tournament.
A relaxed easy pace, great support and friendship have been the hallmarks of our club since it's inception and continue today at this wonderful facility.
We are a member of the Ontario Lawn Bowls Association, District 9. If you are interested in joining the club please call or email for details. New members are always welcome.
Take a look at our facilities and members at play during the CTV broadcast of "Knight in the Morning" taken in 2017 Anwar Knight bowls at NTLBC 2017
Anwar returned in 2018 for another try at bowling and interviewed our club President and members for the "News at Noon" CTV broadcast May 22nd.