The club participates in a number of social activities and events throughout the year.  We have special BBQ and bowling days, tournaments both internal and throughout the OLBA District 9 circuit, as well as Euchre nights and fun competitions.  We play from Monday to Saturdays either evenings or daytime and have competitive participation through the  Sunshine Boys and Golden Girls teams as well as own new Monday night team games.
Here's an example of some of the activities that have taken place at NTLBC
Novice Triples hosted at NTLBC July 28, 2018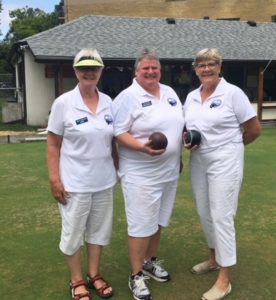 Congratulations to our ladies team of Linda Morrow, Barb Pallister-Smith and Carolynn Kelly on a excellent display of bowling at the Novice Triples event hosted at our club Saturday July 28th. This was the very first time ever a women's team from NTLBC participated in the Novice Triples and our ladies bowled superbly! The first game was tied after 14 ends culminating in a tie breaker end which was won by Milton. The second game was also hard fought with many good shots from both teams. It was a long day as each game was 14 ends (plus a tie breaker and 2 practice ends per game) and the ladies held their own throughout the day. Congratulations to all who participated including members of the Milton team and referees Sharlene & Gary Harris.
OUR ANNUAL CANADA DAY BBQ
New Toronto Lawn Bowling Club Canada Day Festivities – an annual event attended by many of our members includes a 4-3-2-1 format game, BBQ, music and lots of laughter!
ANWAR KNIGHT BROADCASTS
We have had the pleasure of being interviewed by Anwar Knight in both 2017 and 2018 for his weather and news at noon broadcast on CTV.  His visits have been fun for all and spread the word on lawn bowling, increasing awareness and showcasing the skill and focus needed as well as a chance for a little competition and some laughs!
2017 Video Anwar lawn bowling at NTLBC
2018 Anwar interviews John Beaton, President of our club